Martin Hollis tweeted a link to this very nice graph comparing the console "Generations" and their total unit volumes: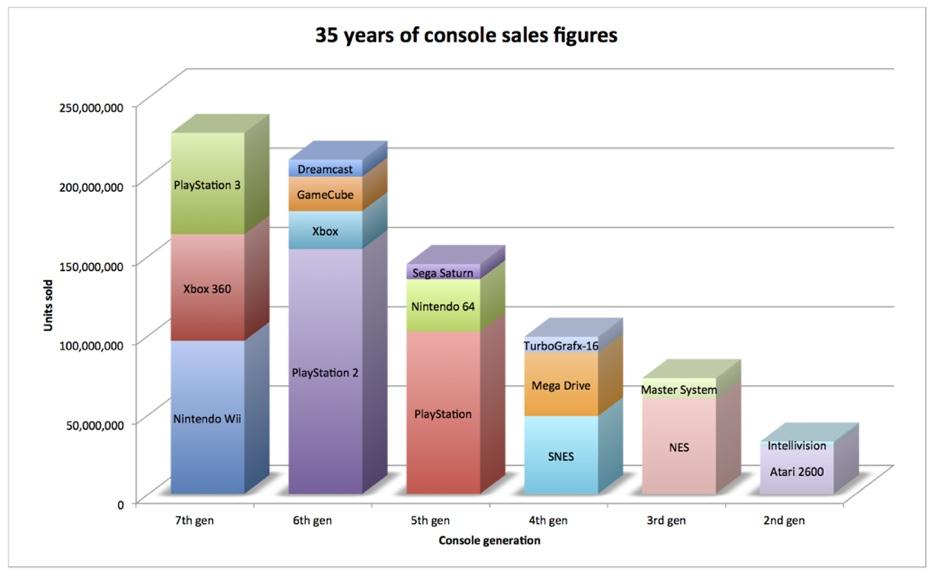 It's a nice graph, despite the chronological order being right to left.
It's a rough swag to group by generation as it is, since launch dates and end-of-life dates have only some alignment. Since some liberties were already taken, and I was curious, I did two things:
- Aligned the generations by date, picking a rough data for "mid life cycle"
- Normalized to 2010 numbers for population size. I used the sum of US, Japan, UK, France, Germany, as my proxy for "first world", as that's where most consoles are sold anyhow.
The resultant graph looks like this (going left to right with time)
Sort of more telling I think. Question is whether the current plateau is an anomaly, or whether we've saturated the market for consoles. A good second question is what this would look like if you removed the portion of Wii sales that were "fad customers", and whether that's fair to do in trying to preduct the next gen numbers.
Anyhow, food for thought.